Bulls One and Done

Bulls One and Done

The NLL season is over, and now all eyes turn to the off-season, starting with the NLL draft tomorrow.

First of all, congratulations to both Leroy and Dunadan on a fantastic finals series, that was a series for the ages. Honestly this season has been by far the best ever.
The Bulls participated in the playoffs, succumbing 4-1 to the Milwaukee Bucks in the first round.

The one thrilling win was in front of their home crowd. It was fantastic for this city, and the players who worked so hard during the season to at least get that victory. And who knows, had Dirk made a pair of free throws in game 2, the series may have been all tied up at 2-2 at that point.

But the Bucks were too strong and too talented, much like all the other teams that advanced to the second round.

It's clear to most in Chicago, that there is still a fair talent gap from our Bulls and the teams that finished above us.

And with no picks in the draft tomorrow, how does the GM go about trying to bridge the gap?

Trading is one way, with one three team deal already agreed to in principle.

This deal will see Jamal Crawford and Meyers Leonard departing. At first GM DazMan32 was keen to trade these guys to reduce the salary burden, however after doing the calculations, it became a move instead to bolster the bench, with no actual salary relief.

"I watched as the benches were critical in the post season, often deciding the results of most games, so that is an area that we must improve. I feel like the two guys we are bringing in compliment our starters perfectly in the way they play on both ends"

So back to that talent gap.

The only way the Bulls can catch up is with rapid improvement from their young players.

That means that:

If even a couple of the above can happen, the Bulls become a different team.
To help guide these youngsters, it is hoped that Steph Curry and
Dirk Nowitzki
will re-sign for less than they would garner on the open market, to allow the Bulls to bring in a free agent or two. The team would also like Thabo back.
Ronnie Price
will not be retained.
GM DazMan32 has a plan to try and see off the challengers from below, and at least keep pace with the 7th and 8th spots in the East. And then where we go from there is up to the development by the young brigade.
Live in that gym fellas!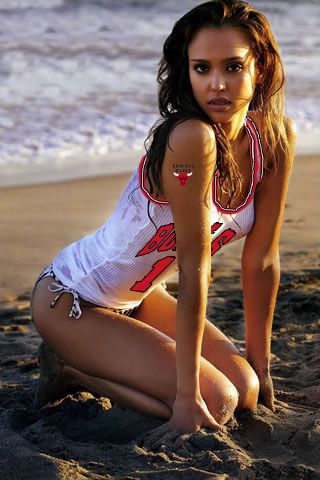 Jessica Alba
Personal friend of GM DazMan32 and the Chicago Bulls number 1 ticket holder!
Comments (1)
Nenjabin
06/24 10:03 am
QN, Qtr. OFF, #1