Splash Bros Unite

Splash Bros Unite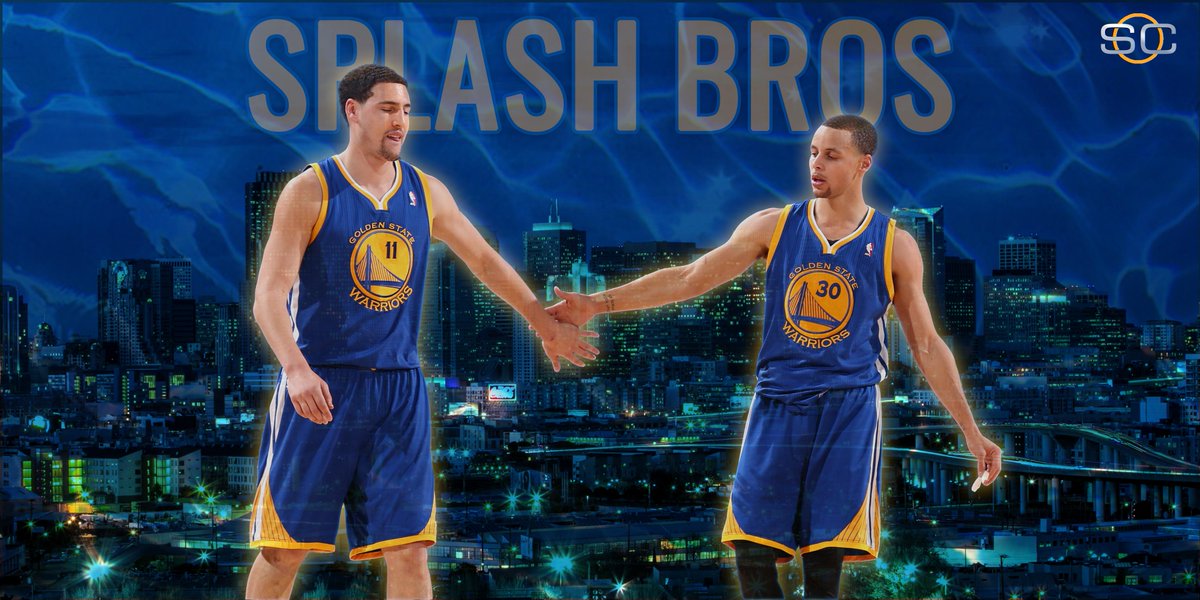 The Splash Brothers are finally united in Chicago after 3 years of trying.

In a highly controversial deal, the Chicago Bulls have acquired Star Shooting Guard Klay Thompson from the Washington Wizards in return for what Bulls GM DazMan32 described as a "King's ransom".

For Thompson, the Bulls traded Robin Lopez, Buddy Hield, Dragan Bender, Seth Curry, their 2018, 2019 and 2020 1st round picks, their 2020 2nd round pick and 45 GM points.

This is a lot of assets, and basically equates to an 8 players for 1 deal.

But this 1 player is no ordinary player.

This is Klay Thompson, a guy the Bulls front office have coveted for 3 years. With Klay on board, the Bulls now believe they have the best two shooters in the NLL, the best back court in the NLL and combined with Dirk Nowitzki, probably the best shooting big man in league history, an unbelievable offensive trio which makes them a much tougher prospect for opponents than last seasons 42 win team.

Not only does Klay improve the team on offense, but he is also a tall and terrific defender. It is this defense and height at shooting guard which makes him a much better partner for Steph Curry, than the outgoing Buddy Hield was.

GM's around the league have questioned the decision, proclaiming the deal heavily in favor of Darko's Wizards. And while GM DazMan32 agrees, he doesn't think its a lopsided as most believe.

"First of all, I am thrilled that I've finally got the Splash Bros in Chicago. It's always been a dream of mine to pull this off, and i have no regrets about how it came about."

"I agree, I over payed somewhat, initially i felt i was already giving enough, but it appeared Darko was unsure, and with other GM's also making offers, i didn't want to see Klay traded elsewhere again, and potentially have to wait another 3 years. So i added another 1st, upped the GM points and included Seth to really hammer the deal home. I basically made an offer Darko couldn't refuse."

"Having no picks for a few years certainly is not great for the flexibility to keep improving this team, but given the choice between Klay and what will hopefully be 3 late first round picks, I choose Klay every time."

And what of the players that were traded.

"I'm really going to miss Robin and Seth, Robin was so great for me last season, and the city of Chicago will always remember his time here fondly, but his salary was a necessary part of the deal. Seth is a Curry and will be missed by his brother and his GM, but he was always going to be stuck on the bench here, so couldn't be a sticking point."

"Dragan and Buddy may have a big future in this league, but honestly, right now from what I've seen, the signs aren't great. And with Dirk pushing 40, i really wanted to find another piece that improves us now, and not later."

"Finally, the rest of the league can say what they like, its all just noise at this point as nothing will wipe the smile off my face. I'm moving on to my next tasks, which is locking up Steph and Dirk for another stint in Chicago, finding an offense which makes best use of our three brilliant shooters and finding players to fill out our now depleted bench. I think a lot of guys would be happy to join this team, and I welcome the challenge of making it happen with limited assets."

"The other Eastern Conference GM's will have a tough time sleeping tonight, knowing that they have to defend this trio."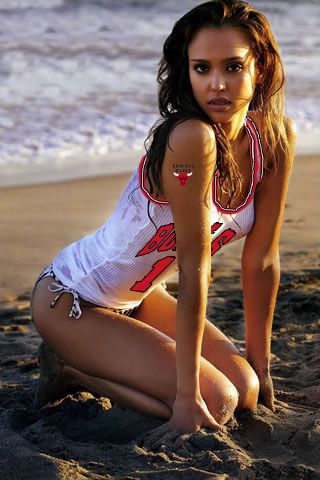 Jessica Alba (Suitably dressed for a Bulls game featuring the Splash Brothers)
Personal friend of GM DazMan32 and the Chicago Bulls number 1 ticket holder!
Comments (1)
Nenjabin
07/12 10:43 pm
QN, Qtr. OFF, #2