Adios, Kawhi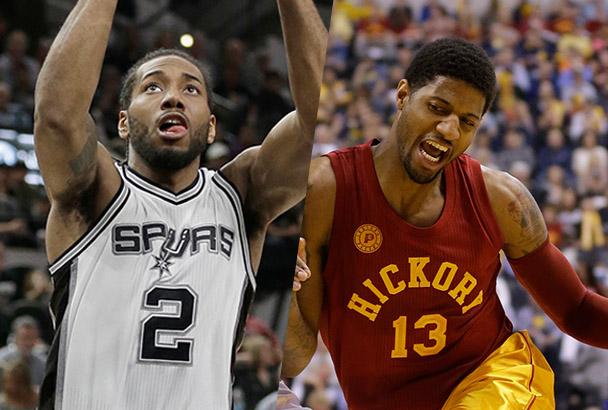 02-13-2018
PHILADELPHIA- After seven years, the Philadelphia 76ers have parted ways with small forward Kawhi Leonard, trading him to the Oklahoma City Thunder for a package that includes Paul George, Denzel Valentine and two draft picks.
Leonard, who had been a Sixer since a draft day deal, has missed most of the season while recovering from a quad injury. Recent reports claimed that Leonard was also becoming disgruntled in Philly and requested a trade. However, team officials denied that any bad blood exists between the star forward and the organization.
"We didn't move Kawhi because of any problems between us," GM VT said. "We moved him because there is a very real chance we will miss the playoffs for the first time in a long, long time."
In return, the Sixers welcome star forward George, who has been a big part of the Thunder's success this season. Though George possesses a player option that allows him to test the free agent market, the Sixers are confident they can convince George to stay.
So far this season, George has averaged 23.4 points per game, shooting 48%. The Sixers could use another scoring option like George, especially considering how poorly the team is shooting without Leonard.
The Sixers also get sophomore guard Denzel Valentine. After a rough rookie season, Valentine is playing well, but with Eric Gordon and Lou Williams on the squad, he will likely struggle for minutes.
There are rumors that the Sixers aren't done trading. Reports from someone inside the organization said that both Gordon and Kelly Oubre could be on the precipice of being moved as well. Time will tell if these rumors are true or not.
In the meantime, many Sixer fans will mourn the loss of Leonard, but will welcome George with open arms.


"It sucks that Kawhi had to go out this way," Jim Boyer, a lifetime fan, said. "I want to see the team win. This season sucks too. Hopefully it's not too late for the Sixers to turn it around. George is awesome. I have faith."
Comments (3)
Nenjabin
02/13 09:45 pm
QN, Qtr. 3, #2
vt
02/13 09:26 pm
ah goddammit
pennywise
02/13 09:25 pm
Well if you got Denzel Washington in the deal, it's a steal. How do Academy Awards and box office smashes translate in the NLL?